Dr. Emily Hrisomalos, our board-certified facial plastic surgeon in Zionsville, is widely regarded for her skill and expertise, and her services are regularly sought by patients from around the country. Whether you are interested in rhinoplasty, facelift surgery, or another treatment option, Dr. Hrisomalos and her team strive to make traveling to Zionsville for plastic surgery as convenient as possible. 
Below, we have compiled information on some of the most frequent inquiries we receive from out-of-town patients. To learn more, please contact our practice directly, and a friendly and knowledgeable member of our team can provide personalized recommendations for optimizing your visit. We look forward to welcoming you to beautiful, charming, and historic Zionsville, Indiana!
Virtual Consultations
Dr. Hrisomalos offers virtual consultations to discuss your goals and the expected course of surgery. During this consultation, we will determine which procedures are best suited to your needs, helping you achieve your desired results. We will also cover what to expect on the day of surgery, post-operative care, and address any questions or concerns you may have. Our primary focus is providing the highest quality of care, and it all begins with your virtual consultation.
Please note that Dr. Hrisomalos requires an in-person visit before surgery to ensure that your goals align with the planned procedures. Direct examination of your face is essential to guarantee that we meet your expectations. This visit can be coordinated with your trip into town for surgery.
Recovery After Surgery
Prior to surgery, we thoroughly review detailed post-operative instructions with all our patients. It is important to us that you are well-informed about the necessary information. We highly recommend filling your prescriptions and obtaining post-operative supplies before your scheduled surgery day. Rest assured, we will do everything in our power to ensure your comfort and provide guidance on how to prepare effectively.
During the initial phase of recovery, we advise planning for relaxation as strenuous activities, including exercising and other forms of exertion, will be restricted. This time should be dedicated to self-care and personal pampering.
Places to Stay
Our team is happy to offer recommendations on accommodations and local attractions in the area. Our office is conveniently located near charming and historic Brick Street in downtown Zionsville. We love where we work and want to ensure that you can fully enjoy your time here. To prioritize your safety and post-surgical care, we suggest staying in town for two weeks. This allows for necessary follow-up visits and ensures your well-being. For subsequent aftercare visits, we can be more flexible with the timing, scheduling them over the course of the following months. Dr. Hrisomalos prefers to monitor surgical patients throughout the healing process for a year. Some of your follow-up visits may be conducted virtually.
Airport
The Indianapolis International Airport is within about thirty minutes of our office and the Zionsville area. There is quick access to our central location via highways 465 and 65.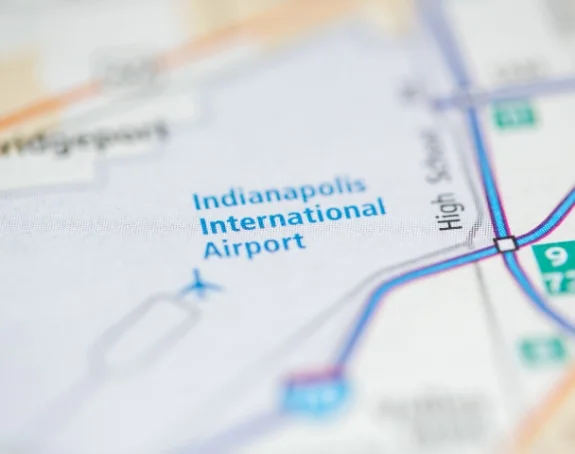 Getting Around Town
Ride-share apps such as Uber and Lyft are readily available in the Zionsville area. Additionally, all major rental car companies can be accessed through the Indianapolis International Airport. It is necessary to have a responsible adult transport you to and from surgery and remain with you for 24 hours after your procedure to ensure your well-being. If required, we are happy to assist in arranging nursing care and/or transportation for you. Your safety is of paramount importance to us.
Contact Our Practice
We are dedicated to providing support and ensuring that our out-of-town patients feel at ease and enthusiastic about traveling to our practice. Please feel free to contact us to schedule your consultation or inquire about the process as you begin your journey towards becoming your most confident self. We look forward to being a part of your care.