Patients who desire fuller, more symmetric lips may find that a lip augmentation or a lip lift can be an ideal solution for their needs and aesthetic goals. Lip augmentation is usually performed with non-surgical dermal fillers while a lip lift is a surgical procedure. Both treatments can enhance lip volume and shape for a plumper lip appearance. Our Zionsville and Indianapolis-area facial plastic surgeon, Dr. Emily Hrisomalos, is highly skilled at creating personalized treatment plans and can help each patient find the right lip enhancement option for them.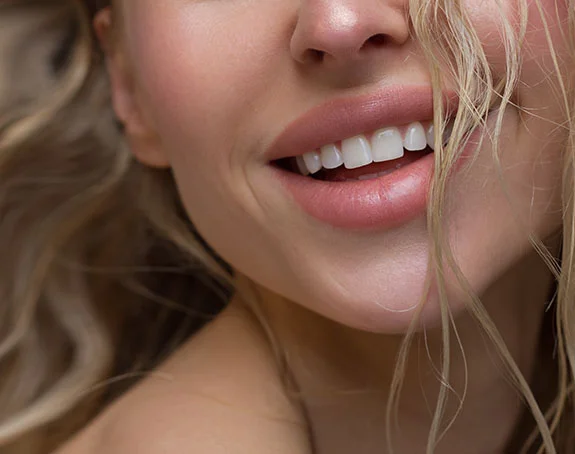 Lip Lift
What Is a Lip Lift?
A lip lift is a cosmetic procedure designed to shorten the space between the nose and the top of the lip by raising the upper lip and increasing the visible height and thickness of pigmented lip tissue. This technique can make the lips appear fuller and more pronounced while also improving the balance and proportion of the lips.
Who Is a Good Candidate for a Lip Lift?
Men and women who are unsatisfied with the way that their lips or mouth appear are typically good candidates for a lip lift. Treatment can most benefit individuals who want to eliminate wrinkles around the lips, diminish the appearance of sagging lip corners or "heaviness" of the upper lip, and overall achieve a plumper lip appearance. Patients should be in overall good health and have realistic expectations of what a lip lift can accomplish.
How Is Lip Lift Surgery Performed?
A lip lift is typically performed under "twilight" anesthesia. For the procedure, Dr. Hrisomalos removes a portion of skin just beneath the nose and above the upper lip. Then, the incision is closed with small sutures. The sutures can usually be removed after a week. During the recovery process, patients may experience swelling or discomfort for the first few days. These symptoms typically dissipate within a week and any pain can often be mitigated with over-the-counter medication. Patients can usually go back to work in the first week after surgery. To ensure that the recovery process goes as smoothly as possible, patients should follow the detailed post-care instructions provided to them.
Lip Reduction
What If I Want to Reduce the Size of My Lips?
While a lip lift is meant to make the lips appear fuller, a lip reduction is designed for patients who want to decrease volume in their lips. For this procedure, Dr. Hrisomalos removes tissue from either the lower and/or upper lips to achieve the desired look. This treatment option is oftentimes performed for patients with overly prominent lips or individuals who have functional concerns due to their lip size and thickness.
If you are interested in learning more about our lip enhancement options, please contact us today. A member of our team would be happy to answer any questions you may have or help you schedule a consultation with Dr. Hrisomalos.