Chin augmentation (enlargement) is a cosmetic procedure customized to reshape or enhance the size of the chin to help restore a sense of balance among facial features. When a person has a small or short chin, it can significantly impact their overall facial balance and perception of their other features. Our double board-certified facial plastic surgeon, Dr. Emily Hrisomalos, can improve the overall harmony of the facial features by contouring the chin and jawline through chin augmentation.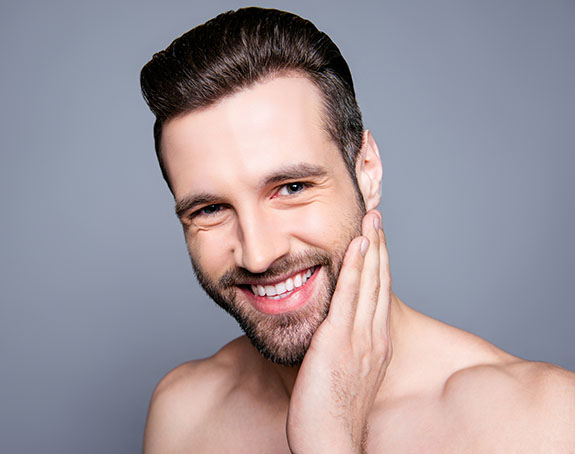 Who Is a Good Candidate for Chin Augmentation?
Chin augmentation can be an optimal treatment for patients who want to increase the projection of the chin and have a more defined jawline. Patients with a weak or receding chin (microgenia), but still have a normal dental bite tend to make good candidates for chin augmentation. In general, chin implants are ideal for patients who desire increased chin projection or volume but have a normal bite or a bite that has been corrected. If there is an issue with the patient's "bite," we do recommend seeing an oral surgeon prior to considering chin implantation. Ideal candidates should be in good overall health and have realistic expectations for the results. Individuals undergoing other aesthetic procedures, like rhinoplasty or facelift, sometimes consider including chin augmentation in their treatment plan for more comprehensive enhancement.
How Is Chin Augmentation Performed?
Dr. Hrisomalos uses state-of-the-art silicone chin implants to help make the chin more prominent, while still looking natural. Chin implants come in a variety of sizes and shapes and Dr. Hrisomalos makes sure to choose the one that is best suited for each patient and their aesthetic goals. She also often customizes the implants during surgery to account for asymmetries or other specific considerations. During the procedure, the incision can either be made inside the mouth or under the chin, and the chin implant is placed and secured beneath the chin muscles and jaw.
In some cases, Dr. Hrisomalos may use dermal fillers to help improve the chin shape and profile. By directly injecting the filler into the deep chin tissue, the chin can appear more defined and projected. Although this non-surgical option is available to select candidates, Dr. Hrisomalos uses chin implants for many chin augmentation treatments as they can provide longer-lasting and more dramatic results.
What Is the Chin Augmentation Recovery Period Like?
It usually takes less than a week for patients to recover from chin augmentation surgery. Scarring is typically minimal as the incision is made either inside the mouth or beneath the chin. For individuals that received only dermal fillers, it may only take two to three days to recover. "Social" recovery will depend on the patient and when they feel most comfortable to go out in public after surgery. During the consultation, Dr. Hrisomalos will go over all information in detail as to what to expect during the recovery process.
To learn more about chin augmentation and how the procedure can improve your overall facial symmetry, we encourage you to schedule a consultation with Dr. Hrisomalos. Contact us today and a knowledgeable member of our team will be happy to help answer any questions and assist you in booking an appointment.