What Is FaceTite?

FaceTite is a minimally invasive facial contouring device that can address common signs of aging in the lower face, jawline, and neck areas. In patients with cosmetic concerns that may be beyond what injectable treatments can achieve, or who aren't candidates for injectable treatments due to skin laxity, but aren't quite ready for facelift or neck lift surgery, FaceTite may be the optimal treatment. Our double board-certified facial plastic surgeon, Dr. Emily Hrisomalos, can help patients look more refreshed and youthful with this advanced contouring
How Is the FaceTite Procedure Performed?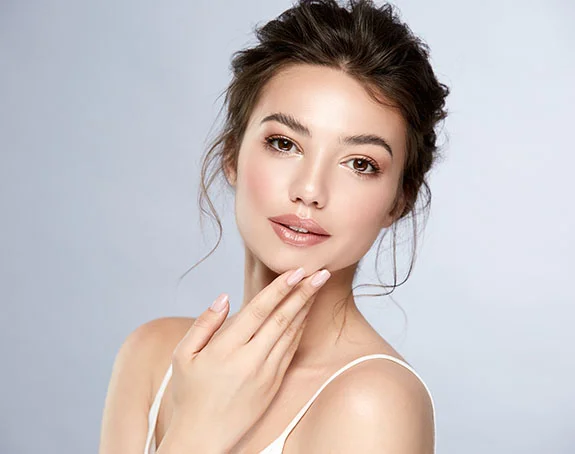 When deciding the best technique to employ, Dr. Hrisomalos takes into consideration the patient's unique facial anatomy including bone structure, skin texture, skin thickness, and underlying muscle tone. FaceTite is a "step up" from most non-surgical treatments and may be difficult to tolerate while awake. Dr Hrisomalos generally performs this procedure with "twilight" anesthesia. Once anesthetic has taken effect and the area is numbed, small incisions are made in the submental crease (crease under the chin) and additional incisions laterally in the neck and aboe the jawline to access targeted treatment areas. These incisions are 1-2 millimeters and are made in order to pass a thin metal probe under the skin. Liposuction is also performed in conjunction with this procedure in appropriate patients. At the end of the procedure, incisions are closed with one stitch or allowed to heal on their own. As mentioned, the procedure is most often performed with sedation to help alleviate anxiety and make the procedure more tolerable. Once complete, a headwrap will be secured by Dr. Hrisomalos to protect and allow the tissues to heal. You will be given detailed instructions regarding how long to keep this in place but it is generally about a week. Of course final healing is dependent on post-operative care and many patient-specific factors.
During the procedure, Dr. Hrisomalos tightens the skin and deep dermal tissues, along with debulking unwanted tissue (via) liposuction, to help restore firmness in the treatment areas and contour the jawline and neck. 
It is normal for patients to experience discomfort after the procedure; however, symptoms are typically manageable with over-the-counter pain medication. The physical recovery period is generally a day or two. Social recovery, of course, is dependent on each patient's comfort level with being seen during the healing stages of bruising and swelling. Final healing and settling takes several months, but patients generally look very presentable and refreshed in 3-4 weeks. After the procedure, Dr. Hrisomalos will provide detailed post-procedure instructions to help guide patients during the healing process.
How Much Does FaceTite Treatment Cost?
The overall cost of treatment will be different for every patient, as the procedure is individualized to each person's own unique needs and aesthetic goals. Some factors that go into how much a person may spend on FaceTite include the following:
Complexity of treatment
Areas involved in treatment
Additional adjuvant procedures (including liposuction)
Addition of AccuTite to target certain smaller treatment areas
Dr. Hrisomalos' procedure fee
Facility costs and Anesthesia fees
During the consultation, Dr. Hrisomalos will give you a better idea of what your treatment plan will be and how much it will cost. Our practice offers a variety of payment options that we will also go over with you. 
To learn more about the FaceTite procedure or to book a consultation with Dr. Hrisomalos, please do not hesitate to contact us today!