Our double board-certified facial plastic surgeon, Dr. Emily Hrisomalos, provides non-surgical treatments that can refresh and rejuvenate the skin and overall appearance. Patients can choose from a variety of aesthetic solutions, including neurotoxins such as BOTOX® Cosmetic and Dysport®, dermal fillers such as Restylane® and RHA® hyaluronic acid fillers, Sculptra®, liquid facelift, hand rejuvenation treatment, as well as ZO® Skin Health, ALASTIN Skincare®, and skinbetter Science® products. During thorough consultations, Dr. Hrisomalos carefully evaluates each patient and customizes a treatment plan with their needs and cosmetic goals in mind.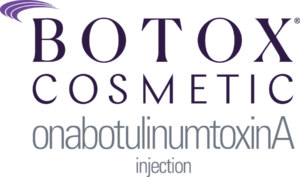 Neurotoxins: BOTOX® Cosmetic and Dysport®
BOTOX® Cosmetic and Dysport® are popular injectable treatments that can diminish frown lines, crow's feet, and wrinkles caused by repetitive muscle movement in the face—like squinting, smiling, and laughing. Over time, these lines and wrinkles can become etched into the skin and cause a tired or angry facial expression. BOTOX® and Dysport® injections work by temporarily blocking the nerve signals that tell the facial muscle to contract. This relaxes the muscle and reduces the appearance and development of new wrinkles. The anti-aging effects of BOTOX® and Dysport® injections can help patients achieve a more youthful and rejuvenated appearance while also boosting self-confidence and maintaining a natural appearance. These treatments are quick and easy in-office procedures with little to no downtime and they can be true gamechangers in preventing and treating dynamic wrinkles and lines.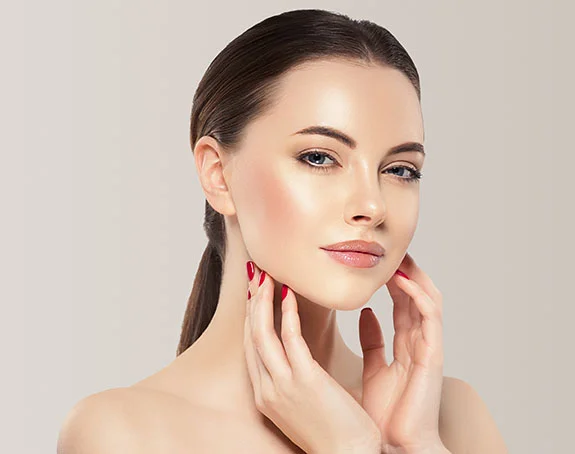 Dermal Fillers
Injectable dermal fillers can be an optimal solution for diminishing signs of facial lines, wrinkles, and shadows while also restoring volume and fullness to facial features. This includes enhancement of the cheeks, diminishing shadowing in the midface and "smile lines," smoothing contour of the jawline, enhancing thin lips, filling "smokers lines" around the lips, and filling dark shadows under the eyes or "tear troughs." Dr Hrisomalos choses to inject hyaluronic acid fillers, which are safe and reversible along with being long-lasting. There are many different products with different safety profiles, consistencies, and indications which she has specifically chosen for her patients. Currently we offer products from the Restylane® and RHA® lines of specially formulated premiere fillers from Galderma and Revance aesthetics. Dermal fillers are a very safe and effective option for patients looking to restore or enhance facial volume and achieve a more youthful appearance.
Sculptra®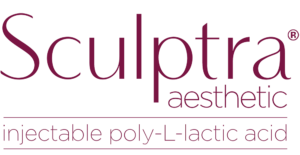 Sculptra® is an FDA-approved injectable product that builds the body's own collagen to restore facial volume. This is often used as an alternative or adjunct to hyaluronic acid dermal fillers. It is made up of tiny microparticles of poly-L-lactic acid which work on the dermis to revitalize your own collagen production and reduce the appearance of lines and shadows while also restoring volume. Sculptra® is administered as a series of quick in-office injectable treatments performed in targeted areas of the face.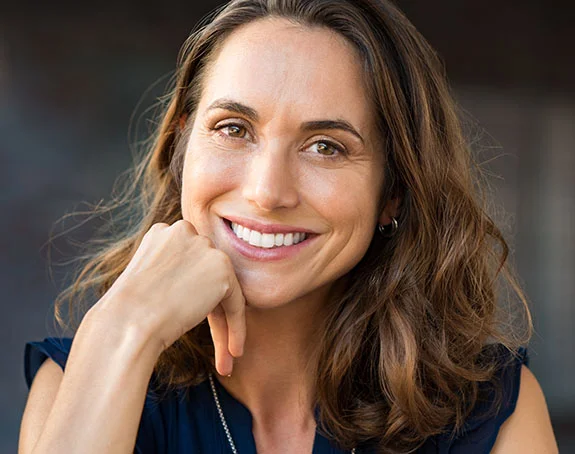 Liquid Facelift
A "liquid facelift" is a non-surgical treatment that uses dermal injections (neurotoxins and fillers) to enhance areas of the face. There are many potential benefits to a liquid facelift, including making the skin appear more plump and taut, diminishing fine lines and wrinkles, and restoring facial volume, often giving the illusion of a "lift." This may be performed in one session, however it may be broken into separate treatments to address different areas of the face or "layer" products. There may be some "social" downtime as bruising can occur, however there is no physical downtime for a liquid facelift. For patients who have medical or social reasons that make a surgical facelift less feasible, a liquid facelift is often an ideal alternative that can be tailored to your goals.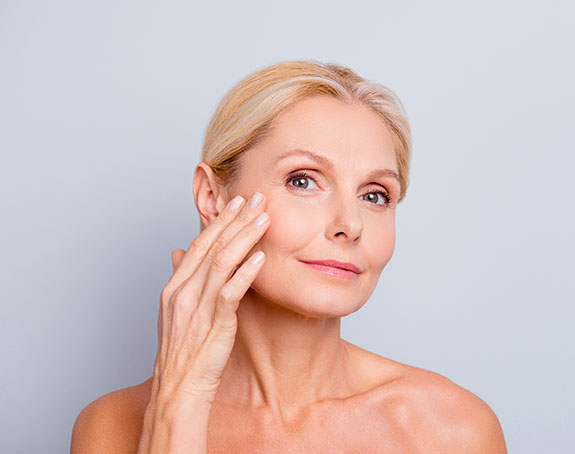 Hand Rejuvenation
The effects of aging on collagen and elastin in the skin, exposure to ultraviolet (UV), blue, and infrared light rays, dryness, pollution, and other factors can significantly affect the appearance of our hands over time. Patients may start to notice thin and wrinkled skin, hyperpigmentation, prominent veins, and increased prominence of the underlying bony structure of the hands with time. Filler injections and other non-surgical treatments can smooth the skin on the hands, making them appear more youthful while also stimulating natural collagen production. Each filler is injected using a very fine needle and patients typically notice immediate improvement with additional, continued improvement over several weeks.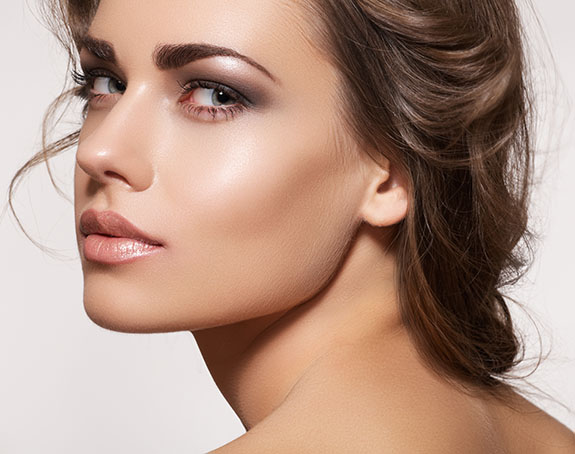 Skin Care
Dr. Hrisomalos provides ZO® Skin Health, ALASTIN Skincare®, and skinbetter Science® products to help enhance and protect the skin from environmental factors in our daily lives. Founded by dermatologist Dr. Zein Obagi, ZO® Skin Health products are designed to treat and prevent common signs of aging while also carefully protecting the skin from the sun and future damage. ALASTIN Skincare® uses patented TriHex Technology®, which includes peptides and botanicals to remove, rebuild, and replenish collagen and elastin in the skin. Skinbetter Science®  offers an uncomplicated approach to skin care. They are devoted to purposeful product innovation through decades of research on skin care chemistry, which has led to the development of their award-winning skin care technologies. All three skin care lines are carefully formulated to provide skin health solutions for patients of all skin types and were carefully chosen to complement each other. 
Morpheus8

Depending on your needs and cosmetic goals, Morpheus8, which uses a radiofrequency microneedling device, may be an option for you. Microneedling in general improves skin texture and quality, pore size, and increases collagen. The addition of radiofrequency to the treatment leads to added benefits of tightening and contouring due to changes in the deeper skin layers when energy is applied. Morpheus8 can also be used to treat specific conditions including scarring from acne, trauma, or prior surgery. Our double board-certified facial plastic surgeon, Dr. Emily Hrisomalos, can help patients look more refreshed and youthful with Morpheus8 non-surgical skin tightening.
How Is the Morpheus8 Procedure Performed?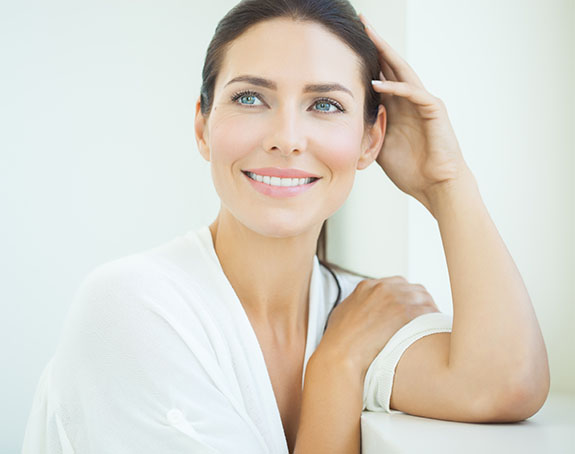 When deciding the best technique to employ, Dr. Hrisomalos takes into consideration the patient's unique skin texture, skin tone, and particular concerns. This is generally an in-office procedure unless combined with other surgical procedures. After numbing cream has been applied and given time to take effect, the face is thoroughly cleansed followed by treating the face and neck with this energy-based device based on a personalized treatment plan. Once the procedure is complete, healing product will be applied and instructions will be re-discussed. This treatment is a "series" and the general recommendation is for 3 treatments spaced out by about 4-6 weeks. This series leads to significant improvements in the skin and deeper layers and achieves optimal results.
It is normal for patients to experience some discomfort during the treatment, but this does not linger on once the procedure is complete. Any residual discomfort may be managed with over-the-counter pain medication. There is no physical downtime for this procedure but bruising and swelling may be present for a couple of days and the length of time this takes to resolve is different for each patient. After the procedure, Dr. Hrisomalos will provide detailed post-procedure instructions to help guide you during healing.
How Much Does Morpheus8 Cost?
The overall cost of treatment will be different for every patient, as the procedure is individualized to each person's own unique needs and aesthetic goals. Some factors that go into how much a person may spend on a Morpheus8 include the following:
Treatment area (full face and neck treatment versus spot treatment)
Complexity of treatment
Number of treatments
Additional adjuvant procedures
During the consultation, Dr. Hrisomalos will give you a better idea of what your treatment plan will be and a cost estimate. Our practice offers a variety of payment options that we will also go over with you. 
To learn more about Morpheus8 or to book a consultation with Dr. Hrisomalos, please do not hesitate to contact us today!